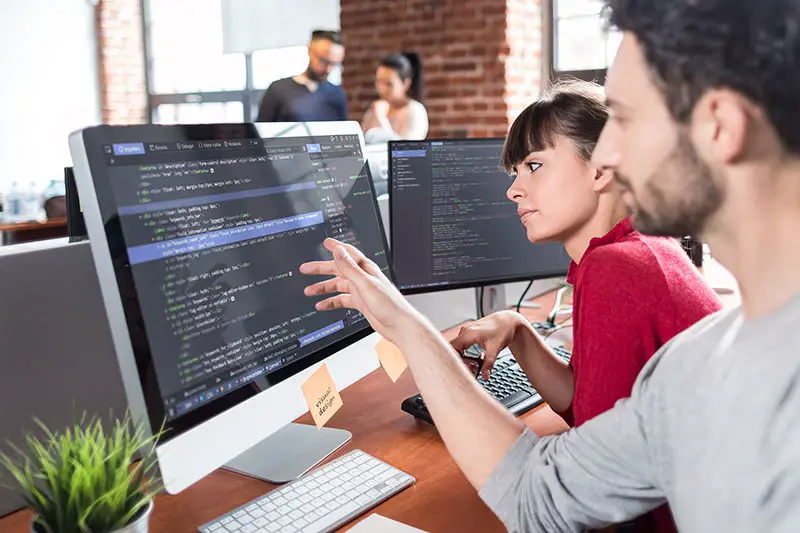 4 Skills that Modern Web Developers Must Possess to Assist Businesses
The establishment of any business is not that difficult, but when the owner or the top management tries to put up a website, many factors must be dealt with. One of them is web development, which is the core of making a solid online web presence. That's why a web developer's expertise counts a lot so that he can offer businesses great support.
The following are the top four skills businesses must look for in a web developer when they are hiring one for their online shopping portal or e-commerce website.
1. Specialize in One Technology/Software/Tool
One of the best ways forward is to make sure that the developer has specialized in one of his favourite disciplines rather than diversify. This can be a very good factor for them so that they are on track for making good ground in this concern. The best way to make things possible for web developers is to excel in a field other than trying to become a master of all and end up not excelling in any of them.
When we talk about specialization, it doesn't mean that you don't have to know about any other software for skills other than that you are getting educated. Nobody knows what the future holds for us, and that's why we need knowledge about different aspects of a field. And when it comes to web development, new software and its versions are released all the time. That's why it is imperative not only to specialize in one field but have ample knowledge about the other so that you do not lag behind.
2. Read and Gain Practical Knowledge too
This factor can be termed as a logical extension of the previous point as this is how a developer can proceed. Businesses need to think about hiring developers that are not just wanted only but can offer exceptional support to them in terms of both theory and practicality. This is akin to being an expert in your field, and that's what every company looks forward to when they want to hire a web developer.
Developers need to be passionate about the field that they have chosen but also have the know-how about coding and programming. While there are several software and tools available in the market so that not every developer needs exceptional knowledge about hardcore coding, having knowledge about this aspect will not harm them. Having information about upcoming technologies is also one factor that can help developers too.
Reading and writing are part of every field, and gaining knowledge is not something that the developers may shy away from. Knowledge about coding can't go a long way so that they can work perfectly. And that's what many businesses need from a developer so that they can get their job done from an allrounder in this field.
3. Question Everything to Excel in your Field
This is one aspect that can be very confusing for most of the developers and even for the readers. I will try to describe it with an example. Suppose that a developer has started working on a project that is given to him by his team lead. He has been instructed that everything is clearly defined in that you just have to go through the coding to complete the process. But what would happen if you find out that there is some discrepancy in the way the project will unfold, and you will eventually be seen by the end-user? Read on.
If a developer is not exploring the project and has no questions about it, he may be working in the wrong direction. Although it is also a requirement to work according to the instructions given to a developer, a person can only gain experience when he questions everything going around him and tries to keep the other side of the picture. This is what businesses look forward to so they can get a developer who uses an out-of-the-box approach to complete the work.
Developers can flourish in their domain by working diligently and keep exploring. Sometimes questioning can offer new vistas for the developers to explore and give them detection to complete a project with ease. So, if you are also looking to hire a developer, think about this aspect so that you will get a perfect solution from a professional who knows how to explore things further.
4. Work for the Right Jobs 
There are hundreds and thousands of opportunities available for developers worldwide. People looking for a job go for anything that comes away, and sometimes this approach is not correct. For developers, this can be a double-edged sword. They can't reject every other job and have to think about what they will gain from it professionally. Working for the right job is the way to go, but how to select the right job that will bear fruit for you in the future is the million-dollar question.
The scope of the project can get very quickly, and in the future, it may be entirely different than what they are getting nowadays. That's why they need to work on the skills to find the jobs that will work for them rather than run-of-the-mill jobs and projects. Businesses should also offer developers jobs so that they get the right solution in return.
This may sound alien to you, but the developers, too, need to find projects through which they can enhance their learning. Short-sightedness is not the right approach as projects come and go. Only the developers who think about how they can excel in their field will reap benefits in the future rather than working as just another one out of millions. To increase the likelihood of attracting big projects, they must work with a web development company that can offer them the chance to excel. And tremendous opportunities will come along.
Over to you 
Want to ask a question or have something to add to this blog that can benefit my readers? Please speak up and also offer your feedback by using the comments section below.
You may also like: Intelligent Marketing for Business Success
Image Source: Shutterstock.com