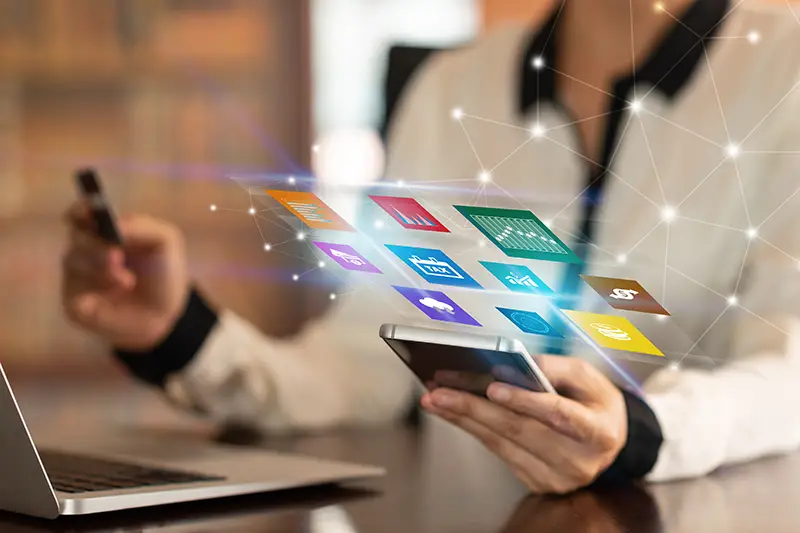 Dynamic Features and Apt marketing that can make an App Take Lion's Share of the Market
The current scenario for businesses worldwide is very volatile as there is still not much good news to think about. Small businesses and startups are primarily those who feel the brunt of this scenario as they don't have much to survive. In the initial few months, they have to make giant strides to make things in their favour; otherwise, it is tough for them to survive.
In any marketplace, big businesses and use conglomerates have enough questions so that they can survive a few months or even a year without brisk sales. But that's not the case with businesses relying heavily on weekly and monthly sales to break even, let alone make profits in the current market scenario. That's why the marketing of the products must be in line with their strategies to come up with something to entice their target market.
The use of mobile apps is one such strategy that can reap benefits for any company. Although initially, mobile app development cost can be the cause for concern for small businesses, it is an investment worth going for in the long term. In addition, the uncertainty businesses face can be dealt with by a great app having all the features and options for their target market that they will love.
Businesses need guidance regarding how they will make the most of the current situation and stay afloat for some time and in the situation becomes available. That's why I have written this blog that can offer anyone looking for some support through incorporating mobile apps in their business.
Be Mentally Ready for Some Hard Struggle
Even if you can get your hand on a great mobile app that can work wonders for you, don't think that this will be a miracle overnight. Or even a few weeks. Small businesses and startups don't have much to sell out on their marketing strategy; that's why it will take some time for them to be marketed aptly. There is one important aspect that I would like to mention here concerning marketing, whether it is for an app or any other tactic.
Businesses need to think about and capture the opportunities that come their way and grab the chance that maybe once in a while. The current market scenario can also be termed as once in a lifetime because these are unprecedented times. Not in the next 50-100 years; we will likely experience such market conditions and probably won't see something like this for a long time. Of course, until we face another manic virus just like this.
Talking about a great mobile app that can help you out from the current dire scenarios, one thing is for sure. You need to emphasize its features rather than its design and layout. Because the design can initially get your target audience's attention, they will be not much to go for once they figure out your app. Most of us install several apps during any given month but uninstall most of them because we don't like their options.
Let me offer you an example so that you can understand my viewpoint easily.
The UI/UX is a good way to get a person's attention as we all get excited by seeing a design that looks alluring. However, it cannot work every time, and mostly the end-users get frustrated by the lack of options. For example, suppose that you have installed an app that lets you use stock and forex trading. There must be several options and features that can let you do everything you are looking for without much hassle. But if you cannot find an option, like putting a limit to stock so that you can sell it as soon it hits a certain price; you may term that as useless.
Continuing with the previous example, the app we discussed may have a great design and other matchless features. However, the option you need to limit a stock is not available; that app will be of no use to you. At least not for that option, and you will even change your account from that company to another when you can use a better app according to your preference. That's why the technical details and research about developing any app must be impeccable.
That's why you need to burn the midnight oil so that you can get the best wishes and options incorporated in your app. This will save you from the blemish as people will uninstall your app and even spread negative word of mouth.
The Marketing Strategy
Digital marketing is one arena for businesses that is most important. One can't think of any other medium that can benefit any business and within its budget. The results are mostly directly proportional to the effort you will put in and the budget. For example, if you can run paid advertisements and campaigns, you can get positive results quickly. But if we go for organic marketing like Search Engine Optimization (SEO), the results may take some time.
This is a bumpy road ahead for any mobile app to make inroads towards its target market using social media platforms and apps. But, as mentioned above, if you can spend a good amount on your marketing, then quick and positive results await you. Think about what you can do to help businesses in the current situation and express support through their app. And mind you, this is not something straightforward. That's why most of the apps on the Google Play and App Store don't get the due attention from the end-users.
Your app must be relevant to your target audience rather than just a rehash of a popular app that you really like. Apart from the regular features available in all gaps in your particular industry, just like stock trading in Forex, you need to be proactive in your approach. Think about what other features you can offer your users to have a competitive advantage over others. This can be a game-changer for any new business in the market as their app can get the lion's share of the market within no time.
Over to you
Want to add your bit to this blog by sharing something interesting for my readers? Or do you have some queries for which you need some clarification? Feel free to get in touch.
You may also like: The Kind Of Apps And Tools Used For Mobile App Development
Image source: Shutterstock.com