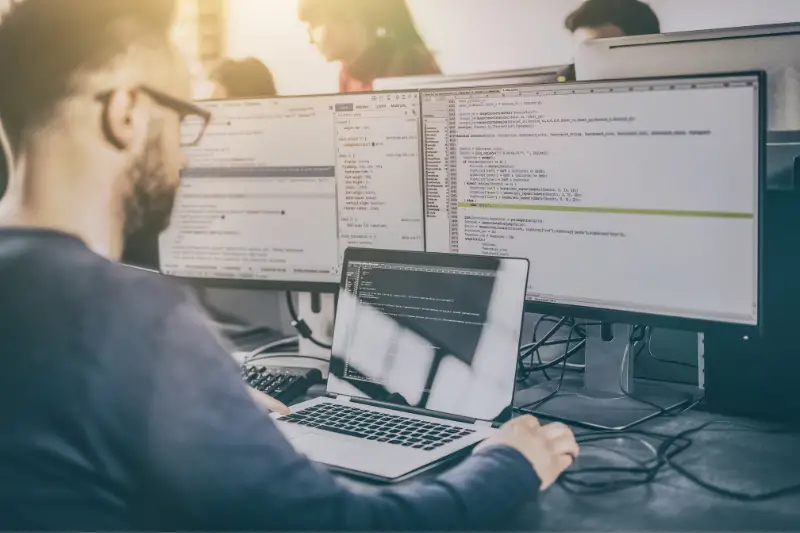 Explaining The Functioning Of A Financial Development Software Briefly
Financial software development services, especially for Fidelity Information Services (FIS), have a lot of reasonable yet robust demands. Those who wish to work in the financial industry must integrate future-proof solutions in whatever strategy they are deploying for financial technologies (aka Fintech).
This post aims to explain the main stages of the development of Fintech. Moreover, it will also help explain the role of financial software development in brief detail.
A lot of people ask what software development in the FIS is like. They are asking the right question because we will now look at some of the main aspects of financial software development. The roles of app development and software development specialists in this field will also be discussed.
Understanding financial software development
What do people mean by the term financial software development? Unfortunately, the definition for this isn't uniform as it is a term which includes a wide array of technological processes.
The development of financial software comprises implementing systems aimed at raising employees' productivity in any firm. Other tasks here are improving and automating financial processes in organisations using modern technologies (like Machine Learning (ML), Artificial intelligence (AI) and big data).
Financial services often include the following:
Online Banking.
P2P Lending Solutions.
PerTech.
InsureTech.
Neobank.
Digital money transfers.
Digital Wallet.
Digital Brokerage.
B2B Fintech.
Blockchain.
Cryptocurrencies and crypto trading.
Big Data Analysis.
Wealtech.
Custom Online Platforms.
Integrations in the Online Banking System.
In the marketing of financial technologies, the following kinds of companies are among the most common kinds of clientele served:
International payment system vendors and providers.
Brokers.
Crypto-traders.
Cryptocurrency systems.
Exchanges of foreign cryptocurrency. 
The industry is dynamic. Each technological breakthrough can help determine a new direction in Fintech development.
Learning briefly about a financial software developer's role
A financial software developer is responsible for creating software applications and platforms for financial services. These apps and platforms are for use and service in the finance, banking and payments industry. Developing and updating software applications/platforms are also among their roles.
These specialists can cooperate with various financial software development firms providing a wide array of development services. They range from credit software to software for financial fraud detection.
The finance software developer should be experienced in the banking and finance industry on a wholesome level. They must understand rising and changing technologies here.
What do software developers in the banking industry do?
Mobile app development professionals based in Edinburgh explain the following being responsibilities of a financial software developer: 
Deciding the algorithms and needed functionalities suitable for the fintech model.
Testing, and maintaining the FinTech programs at all stages (apps included).
Finding and implementing all stages and specifications in developing such software
Defining Fintech models.
Evaluating customer feedback for making improvements to the fintech app.
Fixing and updating the software programs for the banking and finance industry.
Features of development of financial software systems
Here is a list of the needed features that should be present in each FinTech product. Here are some key features:
Multiple factor verification of users.
Main dashboards showing payment transactions and other key information.
Seamless integration with other payment channels and social networks.
Security features (Face ID, Touch ID, biometric authentication).
Push notifications regarding money transfers.
Chatbots based on Artificial Intelligence.
The following can be added to additional functionalities:
Payments of bills and loans.
Credit functions.
Reporting on money analytics.
Map integrations to ATMs and banks.
Rates and conversions for Cryptocurrencies.
The stages of development of Fintech
Each FinTech has its peculiarities depending on the kind of FinTech solution. Here are key stages of Fintech development:
Gathering and analysing business requirements
Before a FinTech application is made, companies must decide the digital strategy for their FinTech and obtain the needed data. The team in this stage discusses the future project and determines the specifications.
Depending on the product to be made (Like a service for personal financial management, a trading platform or a blockchain solution), the research and marketing teams analyse the existing market and its conditions. Then they develop a detailed business plan.
Making prototypes
When creating a prototype for a mobile application, along with the wireframes, the team focuses on both functions and tools and on creating a top-notch User Interface (UI) and User Experience (UX). The team must make a product interface that can be easily understood even by financially inexperienced users.
App Design
Here, the app designers make the app's interface elements following the approved style for the visuals. Moreover, they also implement service navigation to make the user experience of customers as easy as possible.
Coding for the app
The development team selects a suitable technology stack so the Fintech app works seamlessly on all devices. The developers can hence make a native app for either iOS or Android. Moreover, they can even make a cross-platform service supporting both operating systems.
QA Testing
Quality Assurance ENgineers often check the compliance with the design, troubleshoot any specifications of FinTech, fix bugs, prepare the test documentation, and carry out both manual and automated testing. All of this helps review the work of various software parts present in the project and reduce bugs.
Maintenance and App Deployment
After the product is tested, companies give clients the developed product for release. Once released, the FinTech software development firm often doesn't end its participation in the project's life cycle. The company provides its clients with constant support and fixes any bugs that appear.
Which kind of tech stack is used for developing FinTech?
The tech stack which is selected for the FinTech platform depends a lot on the software architecture, integrations, the needed functionality and numerous other aspects too. Yet, as a rule of thumb, FinTech solutions are often based on the following kinds of technologies:
Software development kits (SDKs) such as AppleXCode for iOS and Android SDKs like Android Studio.
Programming languages such as Swift, kotlin, JavaScript, Python, Django, .net, Java, C#, Flutter, Xamarin and the like.
Cloud-based technologies (like Amazon Web Services (AWS), Azure, PaaS, Heroku, MBaaS, Google Cloud etc.).
Databases such as MySQL, MongoDB, PostgreSQL and the like.
These technologies help FinTech development companies connect all functions they have in mind. Hence they should consider the following APIs:
Paid and Yodlee are used for banks and financial institutions.
Experian for credit solutions.
For payment gateways, Stripe is best.
For social media, Wit.ai, Slack and Dialogflow are good.
Chatbots are made with solutions like Natural language Processing (NLP) and Machine Learning (ML).
Conclusion
These are the requirements and steps toward creating financial software that can help make people's lives easier. The steps do seem a bit difficult but are necessary and are not that hard. In reality, a true understanding of banking and finance is needed so things can go smoothly and seamlessly to provide the best user experience to those who need such an app.
You may also like: Hopin Has Turned Out to Be a Revolution, and So Can your Product
Image source: Shutterstock.com