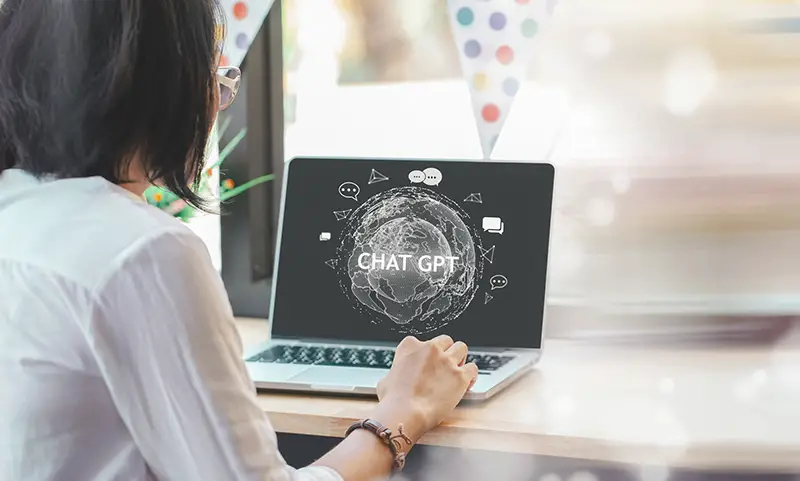 How To Create A Blog Post Using ChatGPT In 2023
Do you feel creatively tired and in desperate need of a writing boost? There is no need to look any further! ChatGPT is an AI writing genius here to make your blogging life easier. Composing daily blog articles can be difficult, but with ChatGPT on your side, you'll be up and running in no time. So say goodbye to writer's block and hello to never-ending productivity. Prepare to be astounded by the power of AI-assisted writing! In this tutorial, we'll look at how to use ChatGPT to make an excellent blog post.
1. Begin by creating an OpenAI account: To utilise ChatGPT, you must first sign in to the website. For the time being, the basic version of ChatGPT is free. There is a Plus edition available for $20 per month. The Plus version has no downtime and also writes faster. I believe it is well worth the $20, but don't worry; the free version is just as wonderful.
2. Choose a prompt: To generate text, ChatGPT employs a prompt. To get started, you offer the model with a brief description or inquiry. While writing a blog post, you can start with a simple prompt such as "Write a blog post on the topic of X". Do you have no idea what to write about today? Request article suggestions from ChatGPT. "Give me ten clickbait titles for a plant blog post" will bring you anything like "10 Surprising Secrets of Houseplants That Will Transform Your Life Forever!"
3. Change the response length and other parameters: You can also change the length of the model's answer as well as other characteristics, such as the type of text it generates.
4. Evaluate the created text: ChatGPT's generated text is not flawless, and you may need to make some changes and modifications to get it to the desired level. Make any necessary adjustments after reviewing the content for grammar and spelling problems. Never directly copy and paste everything. You should always go over it again, especially for facts. ChatGPT is intelligent, but it is not all-powerful.
5. Add your own voice: While the generated text will be of good quality, it may still benefit from your personal voice and touch. You can accomplish this by contributing your own ideas, opinions, and jokes. Everyone enjoys a good joke.
6. Publish your blog post: After you're happy with it, you may publish it on your blog or website. If you're concerned about plagiarism, you can always run your text through a plagiarism checker such as Copyscape or Grammarly.
Some pointers for producing an effective blog post
1. Choose an interesting topic: Choose a topic that is both relevant and intriguing to your intended audience. Don't be monotonous. You're not writing a screenplay with ChatGPT, but it should be entertaining anyway.
2. Research and acquire data: Obtain relevant information to support your thoughts and arguments.
3. Outline your post: To keep your writing organised and on track, create an outline for your post.
4. Create an outstanding headline: Your headline is your first impression, so make it awesome and begin to be clicked on. "I'd be stupid not to read this!" you want your reader to say. You can get help with headlines from ChatGPT. Create 20 headlines and choose the best one. Request other styles in the manner of the Wall Street Journal.
5. Make it short: Blog postings should be brief and easy to read. To make it easy to scan, divide your text into smaller paragraphs and add subheadings.
6. Integrate relevant images and videos: Employ relevant images and videos to break up the content and make your post more engaging. To create original art for your blog, you can utilise AI services like DALL-E or Midjourney.
7. Write in an engaging tone: Write in an engaging and conversational tone. Use of technical jargon or unnecessarily formal language is discouraged.
8. Conclude with a call to action: Invite readers to interact with your piece by leaving a comment or sharing it on social media.
9. Proofread and edit: Before publishing your content, make sure to proofread and modify it. Inspect for language and spelling mistakes, and make sure your content is simple to understand.
10. Promote your content: Share your content on social media and other channels to reach a larger audience.
How can I get my blog post to rank high in search engines such as Google?
1. Use keywords: Choose keywords relating to your topic and include them throughout your post, including the title, headings, and body text.
2. Optimise the URL of your post: Create a short, descriptive URL that incorporates your goal keywords.
3. Use meta descriptions: Create a great meta description that explains your piece and contains your goal keywords.
4. Include internal and external links: Add links to other related blog entries and trustworthy external sources.
5. Utilise header tags: Employ header tags (H1, H2, H3, etc.) to arrange your post and make it easier to interpret for search engines.
6. Use descriptive alt tags for photos: Use descriptive alt tags for images to give search engines more context.
7. Make your site mobile-friendly: Make sure your blog is suited for mobile devices, as more and more people access the internet through their cell phones.
8. Create high-quality backlinks: Create links to your blog post from other high-quality and relevant websites to boost its authority and credibility in the eyes of search engines.
9. Keep your content up to date: Update it regularly with new information and data to maintain relevance and rank well in search engines.
10. Use social media: Publish your content on social media to enhance visibility and reach a larger audience.
Winding Up
That's all there is to it! Writing a blog post has never been easier than using ChatGPT. Say goodbye to time-consuming research and endless editing, and hello to inspiration and creativity. Accept the power of AI technology and watch your blog articles skyrocket. So, what are you holding out for? Begin writing and leave the heavy lifting to ChatGPT. Thank you for reading, and please remember to follow us on Twitter!
You may also like: Practical Ways In Averting Burnout In Top-Performing Content Marketing Teams
Image source: Depositphotos.com