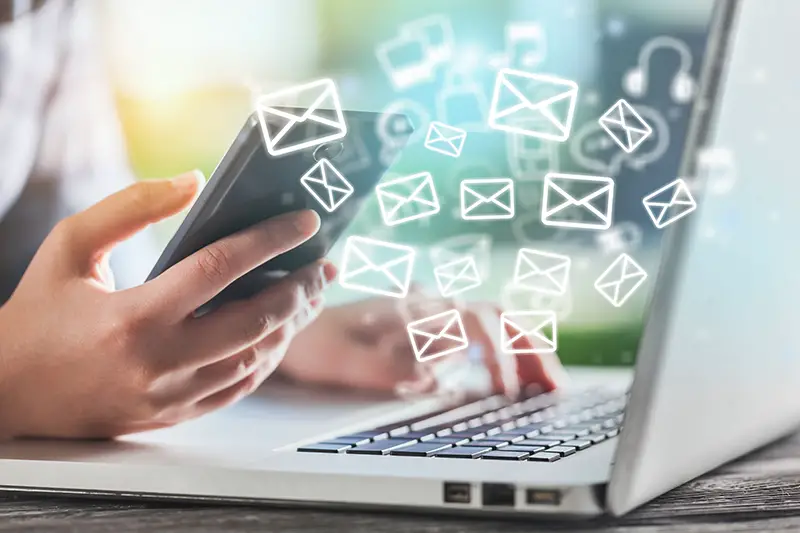 In a world without cookies, email marketing has wholesome benefits
Within a year or so, digital marketers will no longer have to rely on third-party cookies to get the data they need. Yet, they will be swapping them for a wholesome collaboration with first-party cookies. 
Google announced that by the fourth quarter of this year, third-party cookies would be phased out in favour of first-party cookies. The move seems to be in their favour for consumers as it promises to bring in an era of heightened internet privacy. 
For organisations, however, Google has made a decision that can potentially put in a big dent in their marketing plans, and if they do not take steps to fill that dent then it might be out of favour for them to pursue those plans.
There is, however, good news. Third-party cookies are not the end of the line and everything in terms of consumer data collection. First-party cookies are just as good as the third-party ones and can foster much-needed improvements from lead generation to revenue and the like. Moreover, the best place to do so is through in-house email subscription channels.
Email Marketing – a worthwhile and proven source of data collection using first-party cookies
Before we enter the debate about the benefits of email marketing, it would be wise to discuss the differences between first-party and third-party data. In comparison, third-party data often comes from platforms, not in our control. Among them are Facebook and Google.
With cookies being removed as a way to obtain third-party data, no one can rely on external sources in delivering the same number of leads. This is why first-party data is quite important because it helps marketers fill those gaps.
When marketers focus their efforts on emailing subscribers already in their system and obtaining new contacts via that channel, they do not need to rely on third-party cookies to be successful. Hence, they can observe the worthwhile return on their investments and provide the much-needed fruit.
The benefits of Email Marketing – What are they?
What makes email marketing an effective strategy in a world without cookies? First, those who already gave an organisation their data are probably most likely to interact with that company's content. They have opted in by giving that firm permission to provide them with the needed information.
Second, email marketing is easily measured and tracked. Google Analytics is needed along with a customer relationship management software module. Lastly, sending marketing emails to existing contacts (first-party data) is not costly and offers an excellent ROI.
As a matter of fact, estimates suggest that email marketing is a high performing marketing channel. For those who wish to take advantage of email campaigns as third party cookies are being erased, here are some steps they should take:
Using incentives to gather as much first-party data as possible
It is hard to make email marketing work with a limited number of names in the contact list. Hence, marketers need to coordinate a push to gather more information from more prospective and existing customers.
Determining the incentives that encourage people to exchange their data for content can be done through exclusivity. Retailers, for instance, give shoppers rewards when they give them first-party data with either attractive coupon offers or the ability to make purchases before other buyers. 
Whitepapers and other relevant and gated content can also work quite well.
Segmenting and personalising the messages for email marketing
Those sending the same message to everyone on their email list need to give their audience something new. No customers are the same. They fit in a variety of segments based on various factors. Marketers must take time to segment them to refine their marketing strategies.
Depending on the CRM package the company has, they are likely to have a truckload of information they can use in their segmentation processes. A good starting point is to explore the content specific audiences like. Next, they should check on the open and click-through rates of emails.
Marketers might also want to look at the point where customers purchased certain products in the past. This helps determine how to segment the audience and send them more personalised messages in email marketing.
Testing various email messages based on the segments of the target audience
Now that marketers have refined and defined their audiences, you need to approach them uniquely. Consequently, they should spend some time making and testing everything ranging from subjects to layouts, content, and CTAs (Calls to action).
In time, they will find out that testing everything leads to an improved return on investment (ROI). Additionally, they will have a deeper understanding of how to engage each audience segment. As a result, they should experience a rise in responses.
Conclusion
Yes, third-party cookies are going away, but don't despair. Effective email marketing strategies using first-party data can be just as timely, affordable, and lucrative as advertising that relies on third-party data. And you probably have all you need in your CRM to get started and engage your audience.
You may also like: Top Digital Marketing Trends For 2022
Images source: Shutterstock.com