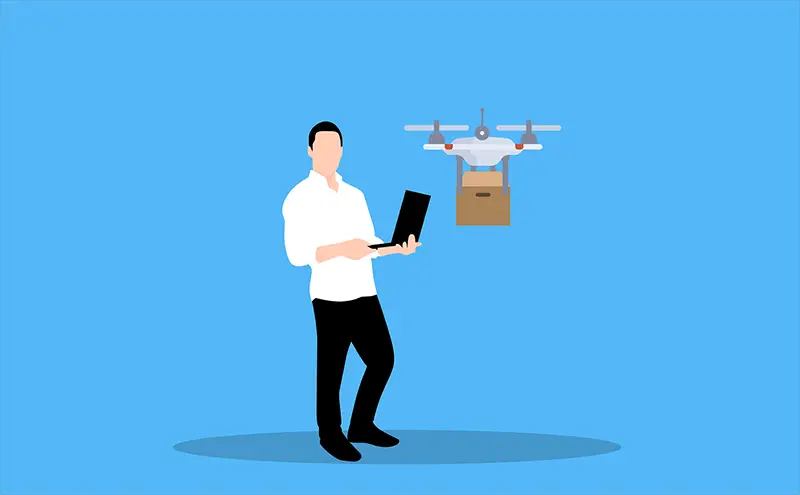 The Future of Delivery Drones and How it Can Help Businesses in Marketing their Products
If you haven't seen the latest Samsung ad featuring Bollywood actress Alia Bhatt, let me tell you something about it. The actress is waiting for her package to come, but the time is running out. Then, at the very last minute, she hears the sound of a drone as the glass on her table starts to shake. She then goes out to the balcony and gets the parcel from it.
The ad itself is not groundbreaking, but an idea is delivered quite convincingly through it. Although it is not the ad for a drone, the whole delivery concept is very uniquely shot and described. The latest Samsung Flip phones are advertised in this, but delivery drones make a splashing appearance. It is the main concept you will see during the first half of the ad and completely gets the viewers' attention.
You must be wondering why I have included this example. This is all about the product's marketing and making it easy to deliver that product quickly and reliably to the customer. So, first of all, let me describe what delivery drones are and how they have changed the delivery scene altogether.
Delivery Drone Basics
A delivery drone is an Unmanned Aerial Vehicle (UAV) through which goods, food, and medical packages can be sent. It is very useful, especially in those areas where it is impossible to deliver any goods. Just like remote areas and hilly terrain, delivery drones are handy. In recent years, war-torn regions, especially near the landmines and areas ravaged by floods, earthquakes, or other disasters, can be reached for medical supplies. No other way of transportation is as effective and quick as a delivery drone.
From health care delivery to postal delivery and from ship resupply to food delivery, UAVs have changed the dynamic of delivery and will certainly take over small shipments worldwide. With the ease of use and pinpoint accuracy, this will be the new revolution in delivery.
Not a New Ploy
Amazon Prime Air started this in 2013 and can be termed as the pioneer in delivery drones. Jeff Bezos announced in December that his company was planning a rapid delivery of lightweight commercial products using UAVs. But the initial attempts by Amazon were blocked by the Federal Aviation Administration (FAA) because of several types of certifications and safety measures.
Nowadays, it is not something that is considered novel. But in many countries, just like India and other under-developed countries, this will be a new dimension in delivery and marketing. Let me shed some light on this aspect as to how this is going to be the norm in the coming few years.
Marketing of the Product
Like the Samsung ad that I have described at the start of this blog, the company's marketing is one of the important aspects of this. Whenever a delivery is done through a delivery drone, not just the concerned person will know about it. However, everyone in the surrounding area too will notice the delivery. It is not just a futuristic delivery system but a great way to market a product.
Imagine you are getting a big parcel like a laptop through a drone. Even if you live in a big house, everyone in your surroundings will notice that a big parcel is coming your way through a drone. And if you live in an apartment, then you will receive it on your balcony or your rooftop. The drone will have the company's logo, in this case, Samsung, and everyone will notice it too.
The Future of E-Commerce
When it comes to e-commerce, it is surely going to be a big thing as approval from the fa means that drones can fly in a city beyond the visual line of sight to deliver packages. This is a big development for delivery drones because earlier, the chance for a drone to make a delivery to a specific location was hindered by a visual line of sight.
But the debate about drones that will eventually be perfect for delivery and making them come inside just like delivery Riders is still hot. There are several factors for which this will be a new revolution, and revolutions don't happen in a few days. When it comes to delivery, there is always the option of drones leaving the package at the customer's doorstep. But there can be many safety hazards, especially in countries where left is rampant. There can be serious security measures needed to be taken.
Then again, there is constant pressure from certain groups about the drone's noise and whether it will be a factor against it. Of course, the person anticipating a parcel will be aware of the drone coming for his destination. However, not everyone will be as calm as that person. As the ground comes down towards the destination, its sound can make people uncomfortable. And when this delivery is after sunset, not many people will approve this as several people may be sleeping or busy in any task may be bothered. A person in his eighties may be frightened to hear the sound, or even the sight of a delivery drone makes him fear for his life.
Final Word
Coming back to the topic of making Drone delivery a great marketing ploy, there are no two thoughts on this. Any new system or process faces some difficulties in the start as not everyone feels comfortable. There are few other factors like safety and regulations so that everyone will feel safe. Like Amazon, which is a big company, everybody knows they can make a good marketing strategy so that everyone in a particular neighborhood knows that deliveries will come. They don't have to wear anything.
In the coming few years, drone delivery will be normal, but until that time, there are chances that when a drone comes near your home, your children may be frightened. That is why it is not always the preferred way of making deliveries by most companies, even nowadays.
I hope that this will be the norm. So, what is your take on this subject, and are you ok with a drone delivering your package on your doorstep or on your rooftop? If you have experienced a delivery drone before, please share it with the other readers.
If you want to ask about anything mentioned in this blog or want to offer your valuable feedback, please use the comments section below.
You may also like: The Kind Of Apps And Tools Used For Mobile App Development
Image source: Pixabay.com