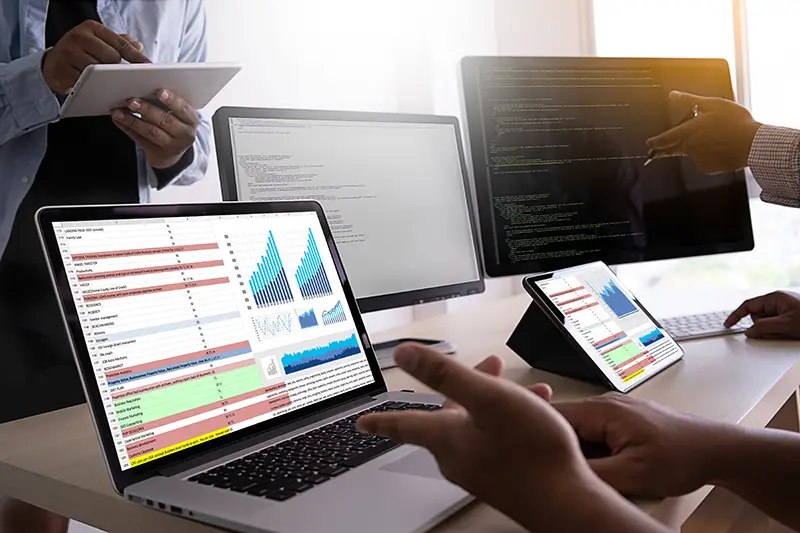 Using Google Analytics For Improving Your Search Engine Optimization (SEO) Tasks And Marketing
Ask any digital marketing professional what they think about Google Analytics, and they'll tell you a lot of things with glee. Of course, the platform is key to all digital marketing activities, but it has also been core to activities in search engine optimization (SEO).
Let's think about it for a minute; various aspects of online marketing, especially in content and digital marketing, include where the visitors on a website's page/blog post/Call-To-Action (CTA) come from. Google Analytics will reveal just that with relevant ease. So now let us read about analytics and how it is excellent for Search Engine Optimization (SEO).
To Use Google Analytics or Not to Use Google Analytics? Going for the former, indeed
Google Analytics (GA) is a robust tool. It allows digital marketers and their teams to obtain a detailed observation of what is going on with their websites. Moreover, the insights provided by GA are precise, to the point that marketers can learn and understand the behaviour of a website's visitors. 
This gives them a monumental advantage when they optimize their website and track SEO analytics reporting to prove the Return-on-Investment (ROI) on marketing.
Here are some things digital marketing teams can see on Google Analytics easily:
Traffic source data exhibits where the visitors of a website originated. For example, did they find the website by organic means? Or were they acquired via a paid or a display ad?
Data on content reveals the way users behave when they are on the website. Did they just come to the website and leave quickly? Which pages were they checking? In what way did they interact with those pages?
Transaction data provides marketing teams with all the needed information about purchasing behaviour on the website. How much revenue did the site generate from a user's transaction? The number of unique purchases in comparison to transactions?
Using Google Analytics for SEO answers all these critical questions. Moreover, for basic usage, the platform is free of cost. It also has a paid version known as Analytics 360, which comes in with alerts and notifications, helping SEO professionals track their SEO rankings with GA. However, it costs USD$ 150,000 annually, so it comes at a premium.
When it comes to ease of use, some find it easy, while some find it complex. But once a system is in place for Google Analytics Management or an agency experienced enough to do the work for them. This can help boost the website's SEO and the company's marketing efforts in quantifiable ways.
Using Google Analytics to improve Search Engine Optimization (SEO). How is it done?
No doubt, Google Analytics is a great tool, especially when learning about customers. Digital marketing teams can see where people are going on the page, which can help them identify broader trends and the like.
For instance, if they observe the kinds of content on the website attracting the most traffic, they can start adding similar content to attract more visitors. Alternatively, they can make relevant content that did not get the needed traffic and become easier to find on the website.
Pay special attention to the "% Search Exits" column. This information will tell them how people interact with a search results page. For example, if they observe users exiting the search results page before selecting a result, they can make an informed guess that they could not find what they were looking for.
Then, they can add the needed content that answers the audience's search queries on their website. This dramatically improves that same site's SEO. Those who are still wondering how to use Google Analytics to improve SEO tasks and tactics, look no further:
Installing the Google Analytics (GA) tracking code on the website
When marketers sign up for Google Analytics, they will receive a tracking code. It will track each user coming to that website. Once received, marketers must put it on each page of the website to get detailed data about user activity. They will find the tracking and the needed GA insights and analytics on the dashboard.
Setting goals which are specific to SEO in Google Analytics
Once marketers have a tracking code, they can set up objectives in their Google Analytics accounts. For instance,  conversion goals let marketers see when someone views a certain page on the website and when they engage with a page (when they buy something/download something, etc.).
Tracking visitor information plus demographics
To personalize the experience of a website's visitors, marketers must know where they are coming from. So, apart from location, Google Analytics will tell the age, gender, location and interests of each visitor to that website.
This will help them target the campaigns much better, improve user experience, and make it more personalized. Marketers must simply enable 'Demographics and interests report' in their GA account to make it happen.
Assessing the traffic of the landing page (and on it too)
Another good thing Google Analytics does is that it allows marketers to track which pages on the website are quite popular, giving them insights into which content performs in the best possible manner. This information generates more content or uses it to update and improve the existing content.
Utilizing reports of Google Analytics
The reporting Google Analytics provides is accurate, invaluable and robust. It tells marketers how visitors reach a particular website and the way they interact with it. Those using a multi-channel funnel can track SEO rankings with Google Analytics to see whether language-specific to SEO led to any conversions or not.
They can also obtain the benefits of working with an SEO/Full-service Digital agency as it can help them obtain a detailed understanding of reading, interpreting and understanding those reports.
Conclusion
Here are the key steps for improving tasks and tactics of Search Engine Optimization (SEO) using Google Analytics. This can help enhance user experience and drive more traffic to the website, along with identifying trends. In addition, they can partner with a digital agency to get a more detailed understanding of reports provided by the platform.
You may also like: Key Ways To Optimize Content For Search Engine Optimization (SEO) In Digital Marketing
Image source: Shutterstock.com