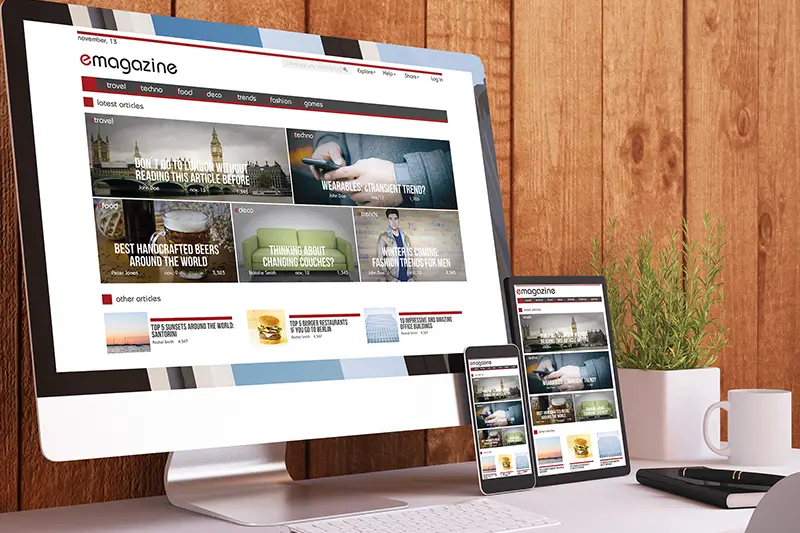 3 Web Design Factors for Businesses to Hit the Bull's Eye, with Innovation at the Heart of Them
Close your eyes for a second and imagine some excellent web designs that you admire? You will probably answer some of the most popular websites on the internet like Apple, Amazon, eBay, Tesla, and Toyota, to name a few. All these websites have one thing in common, the desire to innovate and make the design click with their target audience. Of course, this is what every website aspires to do, but if you will not put in hard work and your idea is not creative enough, all your efforts will go in vain.
The theme layout and design of these websites are all impeccable, and they can rightly be termed as a complete package. So, what are their secrets, and why not every website can be like them? As I have mentioned before, innovation and creativity are the key and mind you, which is no mean feat. However, to create magic on screen is not child's play, and you need a comprehensive strategy and great tactics to make your visitors glued to their screens.
Please go through this blog to read about three important factors that can make a website work wonders for its target audience.
1. Innovation in Designing
As we are talking about web design, most of you will think that innovation in designing is just about creating great-looking graphics and using a theme and layout that can work for the featured product or service. But innovation is not something that you can limit to just a single factor. In literal terms, innovation is the practical implementation of ideas that can result in goods or services or enhance them. Thus, innovation can improve products or services in many ways.
When it comes to web design, you must think of an idea first and then improve upon it. Attracting your target audience is the biggest job and hand for the company, and that is why they look for a web design agency that can help them out. Highly qualified and experienced designers can do the job for you, but your feedback will also be necessary. After all, it is your website, and everything right from the landing page to the introduction should be spot on.
Design to Make a Mark
It does not matter in which part of the world your company as best as you can reach virtually every person interested in your product. At the same time, most people who visit your website may not buy the product; if you can get their interest and make them stay on your website for some time, who knows what can happen in the future! Your innovative design, using the latest graphic design tools and software, can work in your favour.
Initially, most businesses fail to achieve extraordinary design for their website, and this is only natural.  You cannot perfect a web design that can get hundreds and thousands of views by just spending a week or two discussing the design with the designer. Even the design of Apple or Tesla's website was not finalized in a few days. It takes months to make a masterpiece, and you must also keep patience till you see a design and scream out, Eureka!
2. Perfection in Design
This is the logical extension of the previous point, as, after innovation, it is time to perfect the design. You can develop some innovative ideas that you have not seen on any website, but will it interest your target market? More on that later in the next section but focus on perfecting a design that can do the job for you for the time being.
Suppose you are building a website dealing with apparel for young teens. Funky and gold design and the team are certainly required, but what else? Of course, most business owners cannot think beyond this, so I look for an expert designer to help them out. This is undoubtedly difficult but not an impossible task. After all, we come across several websites every few days that catch our attention. So, if they can do it, then why not you?
Ensure your website is equipped with a design depicting a positive vibe and capturing the various moods that young teens like. Think of that design element or factor that can weave the magic for your website to make it look the part and entice your audience to no end.
3. Design with your Target Market in Mind
Again a point that is interlinked with the previous one. Just like in the last example of apparel for young teens, even a business website dealing with financial services also keeps this in mind. The target audience for financial services would be people from the middle age to late sixties as they look for financial stability. The introduction of different packages and services offered to them may not require much designing, but the content and how you will explain your services to them are important.
Designing for a mature audience is perhaps the most difficult job. Going sober is one way, but that can make the website look dull. That is where certain design elements can do the trick for you by making the proceedings engaging. In this way, even a person in his sixties would like to browse through the website and find the information he is looking for.
The excellent use of graphics, pictures, and short videos giving all the information that a person requires, giving a financial website can look alluring and appealing, to say the least. However, if your initial design fails to engage the visitor, never lose hope, and you will succeed the next time.
Over to you
The topic is fascinating, and I am sure that some of my readers would like to add their experience or have some questions in mind. Either way, you are more than welcome to speak up, and I will try to get back to you at my earliest.
For any feedback too, please use the comments section below.
You may also like: Make your Product Page do the Talking with a Highly Appealing Web Design
Image source: Shutterstock.com