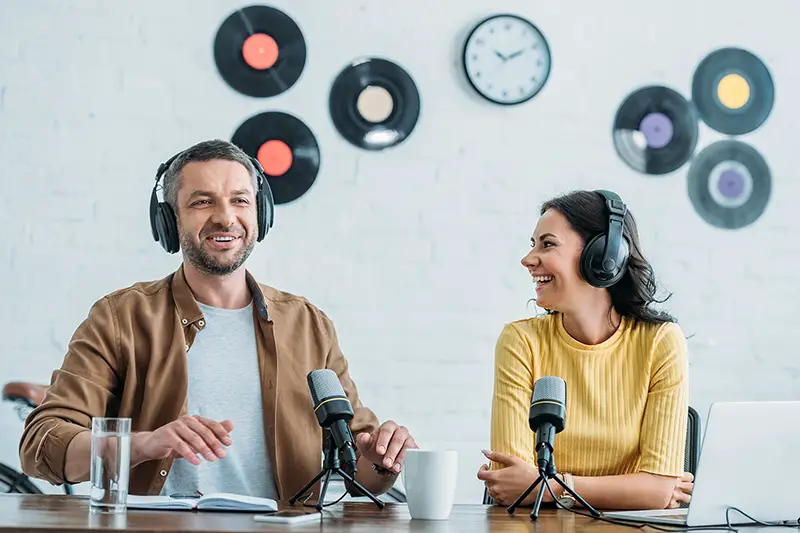 4 Good Reasons why Marketing your Business through a Podcast is a Great Idea
Call Her Daddy is a podcast available on Spotify. Alex Cooper hosts it, and the relationship and sex podcast is a smash hit. However, after the show encountered roadblocks and her co-host decided to part ways, Alex partnered with Spotify for a reportedly 60 million US dollars. That is a lot of money for a podcast and surely will make many people reading this blog interested in podcasting.
Podcasting, according to Alex and industry experts, is not that easy as it seems. Suddenly when you want to make it a big hit, there are several factors that you need to consider. First of all, proper research before every cast is necessary, and you need to be creative in your approach. Because people select your podcast from millions of others out there, there must be a solid reason behind their decision.
Businesses also can benefit from regular forecasts that can offer insight about their products and services to their current and potential customers. The following are the top four reasons why marketing your business to your podcast can be a decision that can bear fruits for you in the long run. 
1. Share and Prove your Expertise in the Industry 
First of all, a podcast is unlike a video that you can share on YouTube or anything like a blog that they can read at their pace. People listening to a podcast have specific reasons for this, and not every Tom, Dick, and Harry would be listening to what you are trying to connote. That is why the information provided in a postcard must be accurate and offer ideas that can help you establish your business. 
Businesses need to market their products and services, but direct marketing would be termed a put-off for many listeners in a podcast search. On the other hand, through your podcast, you can prove your authority on the subject by offering information about a product and how it can help your potential customers. For example, you can discuss your case study or a real-life scenario relating to your product and how it can help the listeners. With positive word of mouth, your podcast can reach places. 
In other words, building trust is a given when it comes to podcasts for businesses. The expertise in the business and how you have become the authority on the subject can make a podcast worth the listener's time and the effort put in by you.
2. Constantly Engage your Audience 
Businesses can engage their target audience through podcasts as many people listen to them. As I have mentioned before, not everyone goes through a one-hour podcast for fun unless they are genuinely interested in your product or service. If your podcast offers value to the listener, they will come back to you for more. Otherwise, it will be sayonara forever. So, each podcast of yours should provide something interesting to engage your audience.
You can include helpful tips, insights, and interviews with industry experts to make them hooked on your podcast. Celebrity guests and talking about the latest happenings in the industry you will also get people to listen to the podcast with full interest. On the other hand, just beating around the bush and offering information about your product that can resemble marketing is not the right way forward. 
You can offer a teaser for your upcoming podcast with a celebrity or an industry expert. That is where you can garner internet from people through word of mouth your what cost will be eagerly awaited. Ask your celebrity guest relevant questions that will indirectly spark more interest in your product. Become an authority, and your podcasts will interest your listeners.
3. Post on Multiple Platforms 
While most people listen to Spotify and other famous platforms, you need to search other platforms and websites you can partner with. Businesses cannot rely on just a single source for marketing their product as there are dozens of ways to do so. Check what your competitors are doing, and they have become highly successful in this.
Partnering with other websites can be a bit expensive. You may need to pay them a hefty amount featuring your podcast on their portal, but there are other ways to do so. For example, you can get into an agreement to feature their podcast on your website so that it will mutually benefit both parties.  You can also share the link of your podcast on your social media platforms and use push notifications on your app to make people listen to it as soon as it is available. 
Remember that no one has the time to listen to what caused it if they have no interest in it.  Similarly, no one will share your podcast on their website if they think it is irrelevant or does not offer something of substance. You can also pay to make other websites feature your podcast prominently, but it may cost a lot, especially for small businesses and startups. So, make your podcast's quality excellent so that it can attract regular listeners.
4. Make Important Dates Memorable with Special Podcasts
People enjoying holidays and having leisure time listen to podcasts more often. In the upcoming holiday season, you can benefit from this by offering special podcasts dedicated to Thanksgiving, Cyber Monday, and Christmas, to name a few. In the podcasts, you can even offer exclusive discounts to your business who may be interested, as the holiday season is all about numerous products that are available cheaply. People do a lot of shopping and that will benefit you, so make podcasts that can compel your listeners towards knowing more about your product or service.
Increase the frequency of your podcasts during this period. While not everyone in the news will be eager to listen to multiple podcasts in a week or even in a single day, those who are interested in your product will give it a go. That is where an interesting subject/topic with a renowned person/celebrity will make them listen to multiple podcasts. 
Over to you 
What kind of podcasts do you listen to, and what is your experience of listening to them? Have you benefited from them, or do you listen for fun? Have you bought any products after listening to a great podcast? 
Please offer your valuable feedback for this blog or ask any questions by using the comments section below. 
You may also like: 7 Digital Marketing Tools in 2021
Image source: Shutterstock.com