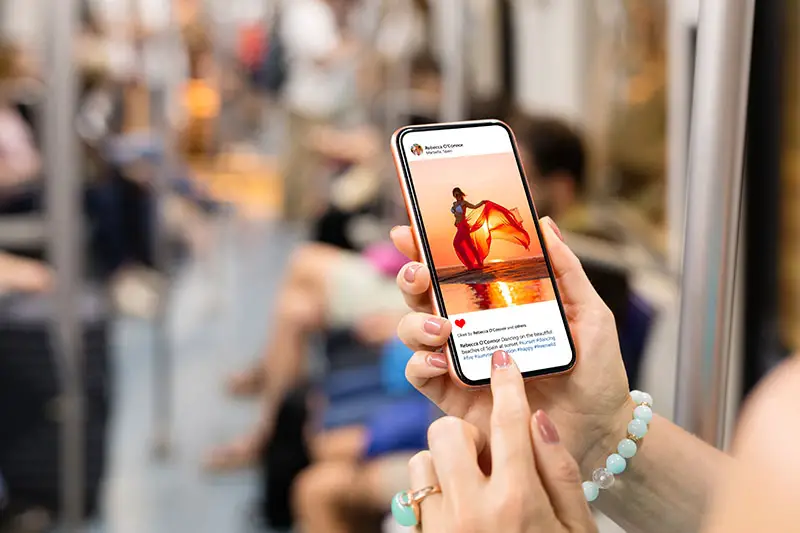 7 Original Ideas for Instagram Stories
Engagement on the Internet (i.e. ER – Engagement Rate) is assessed by likes, comments and reposts. In the case of Instagram, we are only talking about the first two points because there is no "Share" function inside the official app.
It is possible to increase engagement not only by communicating with followers in the main feed but also by using Stories.
What Are Stories in Instagram?
Stories are pop-up photos located right above the feed and are invented to make it seem like users are keeping their own diary and documenting what's going on around them in more detail than in the feed.
The main feed is supposed to be used for posting pretty photos, while Stories is used for "live" photos and videos. Aesthetically, Stories looks rather unpresentable: they are usually photos taken vertically on a phone, or screenshots.
However, if you think them through, prepare them in advance, and post them through planners, you can add real masterpieces there.
So how do you use stories on Instagram to successfully promote and increase engagement?
1. Use a geo-tag to get into recommendations
Instagram has an interesting feature for local business: if you are lucky (and get a critical mass of views in the first hour after publication) you can get into the general "set" of stories in your city. This is free and completely official promotion and also an instant message to your potential customers about your existence in their city.
2. Show the behind-the-scenes of your business
People love to look through the keyhole, satisfy that interest. Show the process of making your products, filming, training your employees, and anything else that goes behind the scenes of making the main content.
The point is that such "unscreened" footage reduces the distance between you and your subscribers and increases their level of trust in you.
That is why it is essential to show that there is a work of real people like your subscribers behind ideal profile photos.
This trust will help the latter stop perceiving you as a pretty picture, start communicating with you, and generously giving you likes.
3. Notify your subscribers of new posts in your feed through Stories
Because of changes in the algorithm for ranking posts, your feed now behaves as it pleases – if it wants it, it will show the post to your subscribers; if it doesn't – it won't. There are many factors, and they are calculated experimentally for each specific account. It mainly affects the number of likes in the first hours after publication, and oddly enough, the presence of people in the photos.
But Stories are shown to everyone, and even at the very top – it's like premium placement in contextual advertising, only free. So when you put up a new post on your profile, direct your subscribers to it. Just don't show it in the story itself – save the intrigue:
Plus, a fresh story is highlighted pink in the Stories feed and in the profile itself – you immediately want to click and find out what's new there. There's no such thing with the regular profile feed.
4. Make up games with your followers right in the Stories
Make your followers feel like magicians. Photographer Brandon Woelfel gained a million subscribers not only because he found his unique style of photography but also because he "plays" with his audience every day. And not just once. He has invented a very simple but incredibly addictive game: he posts a "before" photo, writes "Tap to edit," and the next story, he posts a photo with processing. Subscribers feel as if they made the photo so magical, and they want more and more.
He regularly posts his new photos and backstage in Stories and asks, "Do you want to see Before and After? If so, write about it in the comments of the last post!" That way, he collects 1,500 to 2,500 comments under one photo.
Do something like this, keep your followers entertained and let them be a part of your creative process.
5. Announce events and increase sales with Stories
Tell your subscribers about upcoming online and offline events – webinars, product launches, new store openings, and so on.
You can put links to websites and other profiles in stories, so it's very easy to sell something that's already gone far down the feed. People remember that they didn't buy something and go straight from the story to do it.
6. Share traffic with partners through Stories
Tag partners in photos in Stories and have them tag you – that way, you can exchange subscribers, and it's sure to get noticed, whereas the feed doesn't guarantee you consistent shows to your entire audience of subscribers. Remember: a branded hashtag should be short, memorable and contain your brand name in one form or another. Its advantage is that it makes content more searchable – easy to find and track.
Place the hashtag in your profile header so that everyone who visits your account will notice it.
7. Publish feedback from your subscribers in Stories
Reposting or screenshots looks ugly in your main feed, but they belong in Stories. It makes your followers feel good (especially when you tag them), and it encourages others to share their impressions of your work.
There's more than that. Post anything you find interesting and engaging, record short videos, talk about yourself – subscribers love that.
Conclusion:
Most importantly, remember that there is a strong trend to move from impersonal businesses to personal branding. Instagram is the place where showing your face and real people is more important than sharing pretty pictures. Follow the basic rules outlined in this article, but don't forget: just beautiful Instagram Stories design won't be enough to ensure a steady flow of followers. Therefore, be sure to promote your account.
You may also like: Top 5 Tips to Grow Your Influencer Following
Image source: Shutterstock.com