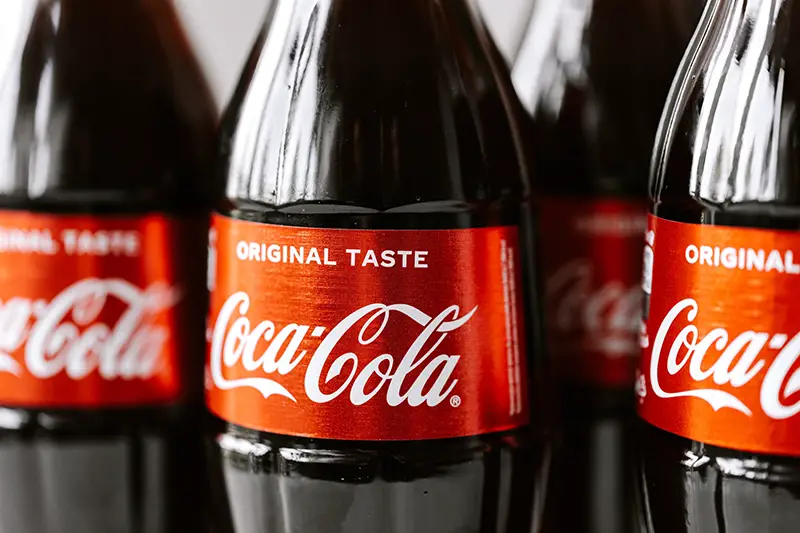 Coca-Cola Need to Revamp their Marketing Strategy to Counter Competitors' Threat
The third decade of the 21st century has started, but many companies still indulge in age-old marketing strategies. But big Fortune 500 companies get it right, most of the time. This is one reason big companies get a better market share, and small companies lose out. At the same time, some of you may argue that companies like Coca-Cola and Pepsi have huge budgets to shell out on any activity they want. But the innovative marketing techniques and engaging campaigns are the real reason behind it.
Coca-Cola invested around 60 million dollars in 2020 for its marketing budget worldwide. It is about 20 percent more than what it spent in 2019. That shows a clear aggressive strategy from Coca-Cola, which has been falling behind some of its competitors. Carbonated or fizzy drinks are dominant in the market, but Coca-Cola has seen dwindling sales off late. The reason can be partly blamed on COVID-19 as cinemas, stadiums, and public places across the globe closed down or offered minimal attendance.
The New Campaign with BTS
It is always a good idea for companies to start partnerships with celebrities and sports personalities. Coca-Cola did the same by partnering with BTS, the Global pop-music sensation from South Korea. The brand has been one of the most successful acts in the last five years and has a total of 23 Guinness World Records in the 2020 edition. These were mostly related to social media following, the number of views/engagement and following on video sharing networks, etc. 
The management of Coca-Cola thought they had made a great decision, and so far, their decision looks great. There are many ways in which BTS offered a refreshing change in the strategy of Coca-Cola. For example, the 2016 "Taste the Feeling" campaign was moderately successful. But four years is too much time for a company of Coca-Cola's stature to stick to the same marketing strategy. 
Real Magic
Coca-Cola is defined by its ardent fans as one of the most iconic brands in the world, and its formula is still a trade secret. This is why Pepsi is defined as a copy of Coca-Cola. And "The Real Thing" slogan aptly justifies it. The "Real Magic" philosophy is rooted in the belief that everything is possible in the world as people are extraordinary and can achieve unexpected results based on their hidden capabilities. 
An updated Coca-Cola logo now appears with the new campaign that is curved away at the edges. The fresh look is dominant across all of Coca-Cola's marketing materials. Coca-Cola partners in the design platform have offered them this new design which is the product of Wieden + Kennedy design agency, based in London. 
The Ad
The 2-minutes ad focuses on video games, which is a clever ploy by Coca-Cola. Most teenagers and young adults, who are the target audience of this campaign, play video games, and that's why the ad gets their attention instantly. The ad is based on a sports tournament where a player who is not being offered a good physician starts drinking Coca-Cola. And his in-game orc character sees this and feels what it's like to be drinking Coca-Cola. The character throws away his axe and calls for the battle to end. 
The ad's theme is about engaging people in an ecosystem where everyone is willing to help their mother. As we all have different approaches, skills, and capabilities, the ad focuses on how everyone can help each other and offer something exceptional to people. With Coca-Cola, there is something that offers uniqueness and innovation to the people they became involved in the proceedings, even if they have no stake. 
Have to Fight Against the Idea of Fizzy Drinks Are Harmful to Health  
Several decades now, it has been shown by numerous studies that fizzy drinks and the use of carbonated water are harmful to human health. Pepsi, Coca-Cola, and most of the other fizzy drinks brands fight it out all the time with new campaigns. All of them cite their drinks as refreshing and offer people something that can make them forget all their worries. It is an intelligent strategy, but we are aware that there is something wrong with the product regarding human health.
Children and teenagers are especially the targets of fizzy drinks and similar products. And studies have found that the effect of drinking these drinks regularly is harmful to many organs like the kidney, throat, and tooth decay as one of the most obvious reasons. Furthermore, long-term effects on health like obesity and type-2 diabetes are also something that they have to offset with their marketing campaigns. 
World' Largest Producer of Plastic Waste
Plastic waste is an issue that has garnered much attention over the years. Even during the current COVID-19, the pollution didn't subside. Now the face mask is among the most sighted objects polluting the environment, especially oceans, lakes, and rivers. Plastic waste has been a hot topic amongst environmentalists and organizations like Greenpeace and has repeatedly reported that companies like Coca-Cola have played a negative role in this. 
Coca-Cola knows this very well and has tried to negate the effect through different campaigns and ads. The tag of being the world's largest producer of plastic waste is undoubtedly the one that they do not want, but they have to live with it. But little can be done in this regard as the company produces billions of soft drinks daily, and the plastic waste continues to add on.
Coca-Cola tries to negate the adverse effect of being a fizzy/carbonated drink maker through different ads. Innovative ads and marketing campaigns try to depict the cool version of the company offering a refreshing taste and feeling as people take a sip of the drink. 
Over to you 
New marketing campaigns and strategies will change all the time. Carbonated drink makers like Coca-Cola will always develop new tactics to tackle their image of a company offering harmful products to every human being. And they have succeeded mainly with this because the sales of all these drinks is a testament to this fact. 
Please offer your valuable feedback for this blog or ask any questions by using the comments section below. 
You may also like: Amazon May Not Need Aggressive Marketing as We Head into the Holiday Season
Image source: Pexels.com