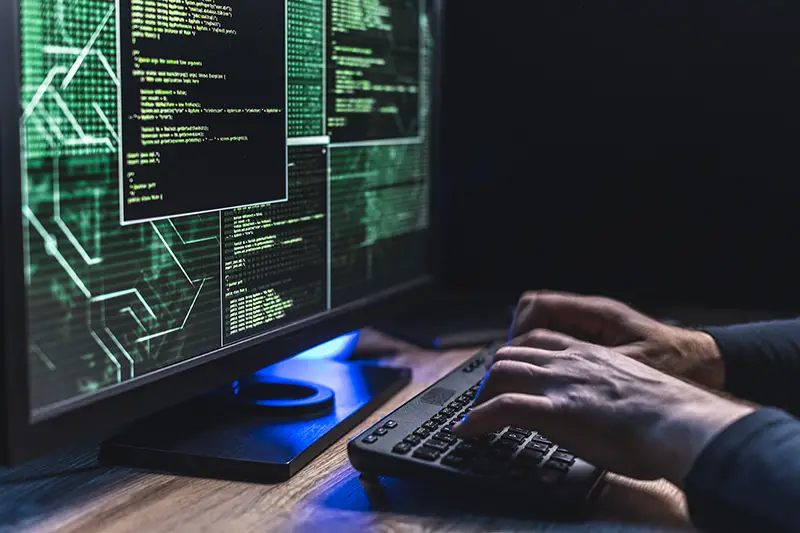 Cyber Crimes Revealed by FBI in 2021 and How Businesses Can Save Themselves by Contacting IC3
The requirement for a hosting service is mandatory for every company looking to have an online presence. But secure hosting is what every company should be looking for. While there are several reasons for this, online cybersecurity is the biggest threat to all businesses.
Please go through this blog as I discuss online cyber frauds that happened in the year 2021 in the USA, which was revealed in an FBI report. And what are the consequences and dangers for your small business and startup without good support, just like a dedicated server, use of VPN, or antivirus software?
FBI Internet Crime Complaint Centre (IC3) Report 2021
IC3 received 791,790 complaints of suspected internet crime during 2021. This is an increase of more than 300,000 year-on-year as the scenario worsened because of the COVID-19 pandemic but more on it later.
The Federal Bureau of Investigation's IC3 issued its annual report for 2021. The report has some fascinating facts and figures I would like to share with my readers. IC3 reported record complaints during 2021, and the reasons for increased cybercrimes are numerous. So let's start with the COVID-19 pandemic that has wreaked havoc across the world.
During the COVID-19 pandemic, IC3 received several complaints regarding different kinds of fraud and theft online. This was old because most people became vulnerable to online theft and fraud because of their financial conditions. There were many instances in which the social security number or other ideas of people were compromised to draw money given to them by the US government. And some of them they didn't even realize that until they tried to get the money.
A total of 28500 complaints were registered with IC3 regarding the stimulus funds, especially targeting unemployment insurance, paycheck protection program Small business economic injury disaster loans, one of the cybercriminals' primary targets. Let me offer you some detail about how they went about their malicious plans and the purpose of having some protection.
Small Businesses Dealing with Cyber Criminals
The Coronavirus Aid, Relief, and Economic Security Act (CARES Act) included provisions for small businesses and startups. This was a great initiative by the US government as it passed stimulus packages for the people worth trillions of dollars. But this gave online cybercriminals and fraudsters to come up with malicious plans to rob people of their money. These were unprecedented times for small businesses and startups, and sadly, some of them were either tricked, or their servers hacked as their sensitive information was stolen.
While there are many ways in which companies can make sure that their services are not vulnerable to such malicious attacks by cybercriminals, the use of a dedicated server is one of the most used ones. This is also an affordable solution for many small businesses because they don't have to shell out much in this regard. Anyone can easily find a cheap dedicated server that can help small businesses and startups in their bid to launch their portals with total peace of mind.
Fraud in Online Communication
In caution should be taken when doing online communication as this is where cybercriminals can get to know about your credentials and other vital information. For example, there are times when some people reveal their social security number or other sensitive information related to credit cards for any transaction. Obviously, this is not the right way to go, but there are other ways in which your information can be compromised. And one of them is communication through email.
Businesses rely heavily on emails, and this form of communication with their current and prospective customers is an important one. Unfortunately, criminals try to reach out to businesses and ordinary people through social media, text messages, and email, disguising themselves as offering a product or acting as prospective customers.
Business Email Compromise (BEC)
More than 19,000 complaints were filed under BEC with adjusted losses that amounted to over 1.8 billion US dollars. This is a huge sum considering that not every business was approached by them, but it looks like most of the targets of these cybercriminals were met. Even if we think the amount to be just in the few hundred dollars, 1.8 billion is a huge sum, and it means that they have compromised the accounts of thousands of businesses, if not more.
BEC also happens because businesses receive lots of spam emails. It is their job to figure out exactly how many of these emails are of any importance to them. In addition, the subject line of some of the emails is intimidating so that businesses go for them. That's why the scammers use this technique to rob off the business of their hard-earned money.
In 2021, IC3 noticed that complaints related to identity theft and funds being converted to cryptocurrency increased considerably. Of course, there are ways other than BEC, including ransomware, tech support, online dating, etc. Of course, everyone needs to be aware of the tactics mentioned above by scammers and cybercriminals, but we all know that people fall into the trap anyway. That's why their use of reliable hosting services and services is of great importance.
Final Word
From the discussion mentioned above, don't think that everything is doomed, and there is no way you can save yourself from these scammers. The IC3 recover asset team has recovered and offered their help to big businesses too, who can incur huge losses. A prime example was a company based in St. Louis that told IC3 about a potential loss of 16 billion dollars through the portal and transaction in Hong Kong. IC3 reacted quickly and recovered all the amount before it could be deposited in the scammers' accounts. This is how small businesses and startups, too, can save themselves from such activities.
If you think you can add something valuable to the blog or ask a question, you are more than welcome. For any feedback too, please use the comments section below.
You may also like: 4 Web Development Technologies that are Shaping the Future for Businesses
Image source: Shutterstock.com