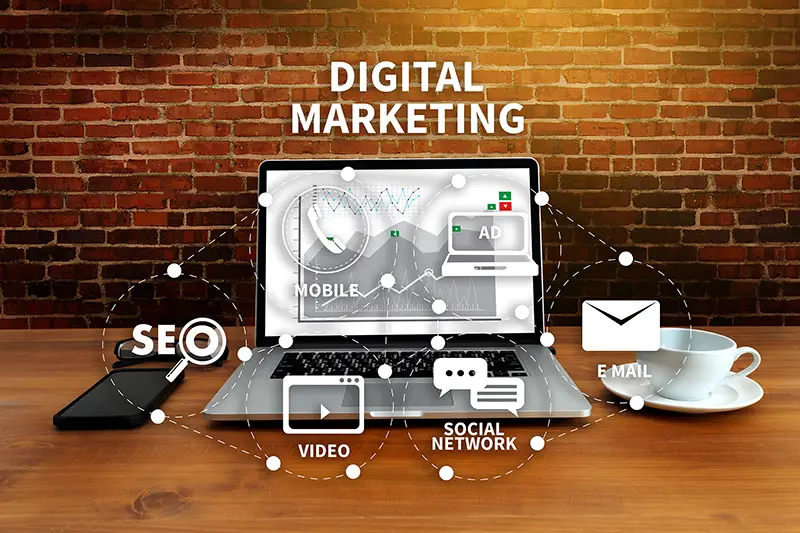 How To Build A Successful Digital Marketing Campaign
Marketing methods over the years have changed drastically. Traditional marketing methods, such as billboard and newspaper advertisements, have turned digital. Digital marketing uses websites, emails, and social media platforms to market a product. Using digital marketing methods helps interact with customers more efficiently, which was not possible with traditional methods. Digital marketing is a form of online marketing, which promotes a product of a brand, with the help of the internet, through various digital channels. Social media marketing, email marketing, and search engine optimization (SEO) are digital marketing procedures. They help in generating revenue for a brand by increasing consumer engagements and website traffic.
The most valuable thing that comes from digital marketing is easy monitoring. You can track your views, likes, and clicks through these campaigns. It helps in understanding the market and determines how and why a product is thriving or failing. It also helps in expanding your reach at a lower cost than traditional marketing. However, at times, money can go to waste if a brand has not planned its campaigns strategically. Before a product launch, a business should have specific branding tools, such as a logo. They should make sure that they shop marketing materials correctly for their campaign. They need to be careful and do in-depth research before purchasing materials. It will help in having a cost-effective approach to the marketing campaigns.
At times, it can be overwhelming to know where to start. For example, should you start advertising on social media? Or should you plan and develop a website first? Below we will discuss all the ways that will help you in building a successful digital marketing campaign.
1. Doing Extensive Research
Do your research before launching a campaign. However, as simple as it may seem, obtaining the correct information is a challenge. When it comes to building a fruitful digital marketing campaign, certain factors need examining. For instance, it is vital to find the correct target audience. Setting demographics such as age, gender, and location are all a part of defining your audience. The better you understand your target audience, the more efficient use of your campaign. However, only researching your target audience is not enough. You need to understand who your competitors are as well. You need to understand their marketing strategy and see if you want to have a similar approach or do something unique. It also helps to analyze the current market situation for your product/service.
2. Strategically Planning Your Goals
Once you are done with your research, you need to set goals and targets. Strategically planning a digital marketing campaign is essential. It is necessary to set achievable targets throughout the way, which ensures clarity. Monitoring tasks is also crucial after execution because it improves the strategy's effectiveness and keeps the team on track. For example, you can plan how much revenue you want to generate each month and how you can lessen the costs. You could also set a small target income you want to make every week and then maintain it. A strategy revolving around small attainable goals is the backbone of a successful digital campaign. However, it is vital to make sure that deadlines for each task are in place and met regularly.
3. Setting A Budget
Once you have your goals set, you need to have a budget to meet them. Setting a budget might be easy but maintaining it without facing losses is tough. Even though digital advertising is cheaper than other marketing methods, setting a budget is just as important. Start by listing out all the expenditures needed to run a digital marketing campaign. For example, creating a website, doing keyword searches, and creating content. It is a tiring job for one individual. Hence, you can hire a digital marketing agency to do this for you if it is within your budget. Apart from this, paid advertising on social media platforms is also an option. However, setting a monthly budget for each social media platform is compulsory. The higher you invest in ads, the greater the possibility of higher returns.
4. Choosing Your Platforms
Once the above factors are organized, you need to choose where you want to advertise your campaign. For a digital marketing campaign, you should make use of as many mediums as possible. Social media channels such as Facebook, Instagram, Snapchat, Twitter, and LinkedIn are all common ways of advertising. These platforms have many users who use such apps regularly for entertainment, shopping, and informative purposes. Creating an ad and sponsoring it can improve views, likes, and clicks and thus have more customers approach you. You can also use Google Ads (PPC) to show your website on top when searched.
Apart from social media platforms, mobile and email marketing are also effective ways to market your campaign. Many companies may not opt for this method. However, using as many channels to advertise your campaign can be fruitful. Having a combination of different platforms to advertise your campaign helps build an effective strategy. When it is done effectively for an extensive period, it results in a successful campaign.
5. Optimizing your Website through SEO
One of the most common ways to increase website traffic is through search engine optimization (SEO). It increases the quantity and quality of traffic through organic search engine results, which moves your website up the ranks when searched on Google. Keyword research is necessary for this. Keywords are the words typed into search engines when finding a product/service. To find the right keywords, you should think like the customer buying your products/services. Once you have a list of words prepared, you can test them out by running them through keyword tools for a detailed analysis.
Running a successful digital marketing campaign may seem quite tedious. Although, all you need are the right tools and knowledge to succeed. Proper research, planning, and an organized budget are necessary. Your focus should also be on those social media platforms which work the best with your campaign. Finally, your campaign should have a long-term approach that keeps growing and increases sales.
You may also like: Amazon's Latest Marketing Campaign is Based on a Novel Concept and Great Execution
Image source: Shutterstock.com