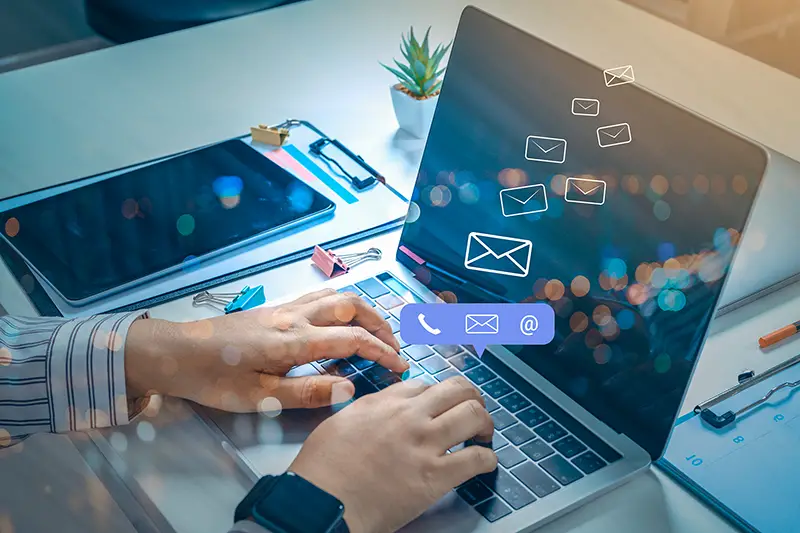 In A Digital World Without Cookies, The Benefits Of Email Marketing Are Much Clearer Than Before
Within about a year, digital marketers need to swap their cookie diets for something similarly sweet and satisfying. 
Google announced that by the fourth quarter of the year 2022, it is phasing out third party cookies for good. For consumers, this move promises to bring in an era of amplified internet privacy. However, for companies, the decision of Google might leave a hole in their marketing plans if no steps are currently taken to fill them.
The good news, however, is that third-party cookies are not the end and everything of consumer data collection. First-party cookies can be just as revealing and can foster improvements in many things, ranging from lead generation to revenue. 
And what better place to leverage first-party data than through an in-house email subscription channel? Let us now read more about it.
Email marketing is undoubtedly a proven source of first-party data collection
Before we jump directly to the benefits of email marketing, it is wise we discuss the differences between first-party and third-party data. Put simply; first-party data is one that companies collect on their websites via lead-collection vehicles (through contact forms). In comparison, third party data comes via platforms that companies do not control, like Facebook and Google.
With cookies being removed as a way to obtain third-party data, no one can rely on outside sources to deliver the same number of leads. That's why first-party data is quite important, as it helps companies fill the gaps.
By focusing more of their efforts on emailing people already present in the subscribers and getting new contacts through that trusted channel, no one needs to rely on third-party cookies to be successful. They can also see worthwhile returns on investments.
Exploring the benefits of email marketing
What makes email marketing an effective strategy in a world without cookies? Here is how. First, the people who have already given companies their data are probably most likely to interact with the content. After all, they have opted in by giving companies permission to send them information.
Second, email marketing is simple to track and measure too. All that is needed is a Google Analytics account and customer relationship management solution. In the end, sending marketing emails to existing contacts (i.e. first-party data) does not cost much and thus offers a very nice ROI.
In fact, many estimates suggest that email is one of the highest-performing marketing channels. Here are some worthwhile strategies digital marketers have laid forward when it comes to utilizing email marketing in a world without cookies:
Using incentives to gather as much first-party data as possible
It is hard to make email marketing work if there are limited subscribers or contacts in both lists. Hence, coordinating a push to gather the personal information of as many prospects and customers as possible is a must.
What incentives will encourage people to exchange their data for the content offered to make it work? Emphasizing the idea of exclusiveness is good. For instance, many retailers reward shoppers who give them first-party data with attractive coupons or the ability to make purchases before other buyers.
White papers and other relevant content work well.
Segmenting and personalizing the messages for email marketing
Those who have been sending the same messages to everyone on their email list need to avoid that. It is time to give the audience something new. Not all customers are alike. They fit in a wide variety of buckets. Companies must take time to segment the messages and customers to be refined and fine-tuned.
Depending on the CRM solution used, companies might have used a lot of information and variety too. A good starting point is exploring the kind of content specific audiences seem to like. Checking the opening and click-through rates is a must. 
Companies might also want to look at what customers purchased previously so segmenting the audience can be done right and sending them the correct personalized message.
Testing various email messages based on segments of the audience
Now that companies have defined and refined their audiences, they also need to approach them uniquely. Consequently, spending time creating and testing everything from the subject lines to the layout of the content to the calls of action.
In time, marketers will find that testing everything leads to a much better return on investment. Additionally, they will have a deeper understanding of how to engage each audience segment. As a result, there should be an upward trend in positive responses.
Conclusion
Third-party cookies are going away. Yet digital marketers have nothing to worry about. Effective email marketing strategies using first-party data can be just as affordable, lucrative and timely as advertising dependent on Third-party data. Also, all that companies have in their CRM to get started and engage with the audience is also present.
You may also like: How To Build A Successful Digital Marketing Campaign
Image source: Shutterstock.com