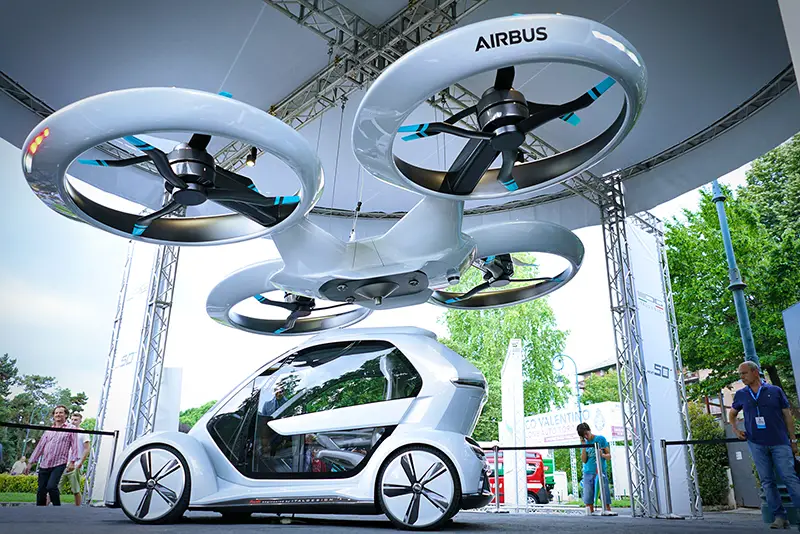 Technology, Rather than Marketing, Will Decide the Fate of Flying Taxis as they Hover on the Horizon
From the earliest times, flying in the air was one of many people's dreams that seemed impossible at that time. Nevertheless, they long for some way so that they can also fly like birds or have some machine to do that. That is why even before the Wright Brothers built the first aircraft in 1903, people from around the world made many attempts to touch the skies. 
The idea of flying taxis or cars is not new. However, once drones became a common sight, it was always the next step, whether in the military or other purposes. Many readers here may remember that the flying taxis were an idea first discussed in the popular cartoon series of yesteryear, named The Jetsons. It was one of the most popular series, and perhaps many people envisioned flying taxis from that era. 
So, what is being done in this regard, and what is the future of flying taxis? Read on as I discuss in-depth information and analysis of what we can expect in the near future. And if marketing can make proceedings better for them. 
Flying Taxis is No More a Dream
In the past few years, you must have heard something about various experiments and test flights concerning bank taxis. This is now becoming a reality in the next year or so because just flights have been doing the rounds for the last five years at least. Dubai, London, and New York are amongst the cities that have seen many startups working in this regard. And maybe Dubai will be the first city to see commercial flying taxis roaming around in the Gulf state.
Uber and Boeing are going all guns blazing when you talk about flying taxis. Even car makers like Toyota and Honda are also interested in the concept. However, it requires massive investment in just the R&D part, which is a significant deterrent. Over the last two years, investment in major technologies was halted, and flying taxis technology and its development was also a victim. Now that the world is returning to normal, flying taxis will make a splashing debut in the coming few months at the earliest. 
The Latest Developments 
Many of you would be interested in knowing what is being done right about this. What are the features and options we can see in the flying taxis? As I have already discussed Uber and going, they are primarily engaged in launching eVTOL (electric vertical takeoff and landing). And according to the latest report, this type of flying taxi will be in much demand by 2040. And as many as 430,000 such vehicles will be in operation by that time.
Delivery drones are also very popular amongst the big technology companies and investors. And industry analysts are predicting the market will be worth over 5.6 billion dollars by 2028. NASA has reported that flying taxis will be flying at the height of around 5,000 feet in the future. That is considered only higher than what most companies are anticipating as they have tested at around 1000-2000 feet.
The autonomous urban aircraft market, as it is going to be called in the future, will be worth 1.5 trillion dollars. According to the latest estimate by Morgan Stanley, this shows full faith of all the investors, and the public's interest is also ripe. And this brings us to our very important question about the availability of flying taxis. Will it be available for everyone just like a regular taxi or will it be very expensive, so that only c-class executives and company owners will be able to enjoy it? 
Let me describe this aspect in detail.
Availability for the General Public 
2022 is touted to be the year in which commercial availability of flying taxis will commence. But there are still some hurdles for the technology to be available for the general public. Companies like Uber are going all out to make this technology available to everyone, but the high cost and very limited companies able to build flying taxis is a major deterrent. That is why in the next one or two years,  you won't be able to see students using it for going to their school or children taking a lift with their parents to have a good day at the nearby amusement park.
Investors are pouring in billions of dollars into the commercialization efforts as this is the only way that their investment will come back. Just for the break-even, this is important as a high return on investment in the next four to five years is highly unlikely. Electric air taxis are going to be much more cost-effective with low maintenance and operating expenses. 
Plans by Toyota and Joby Aviation 
In January 2021, Toyota said that it had invested 394 million dollars into Joby Aviation, a Silicon Valley-based startup. The startup is going for an all-electric eVTOL aircraft for flying taxis. The move is part of around 590 million dollars that Joby Aviation has racked up and is gearing up to offer taxi service by 2023. The awareness about it and marketing can only be influential if it is technologically sound. So, for the time being, it is the technology that the manufacturers and carriers need to emphasize upon. 
The company has high ambition as it is building a prototype that its shares should eventually be the go-to model for ground transportation. They hope that they can offer this service to around one billion people to save several hours of commuting every day. The company is banking on its advanced technology and the design of the aircraft.  
The prototype currently can travel at more than 100 mph and can go to a distance of 150 miles on a single charge. It is also much quieter than a conventional aircraft, especially during takeoff and landing. So, the noise pollution that many industry analysts were sceptical about will be minimal. The aircraft's speed is considerably less as some of the aircraft have recorded speeds around 180 miles per hour or even higher. But these are early times, and certainly, in the next one to two years everything will be sorted out, you can see that their craft have high speed and low noise.
Over to you
What do you think about the latest technology of flying taxis and their future? Surely with billions of dollars of investment in it, it may not be a complete failure. But will it be able to break even in five to ten years, as not many investors will be willing to wait much longer? Also, offer your viewpoint as are you already to sit in a flying taxi in say, six months?
You may also like: Start a Business Featuring a Unique Product and Marketing Ploy to Make it Big
Image source: Shutterstock.com