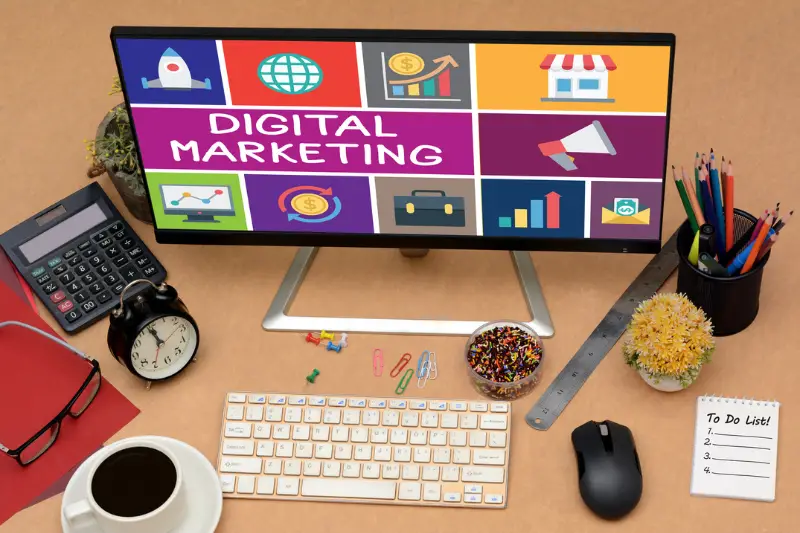 Top 10 Benefits of Digital Marketing
Digital marketing is among the best fields of marketing and also among the finest industries too. The benefits it brought in have been able to create a great deal of change and transformation in marketing on a whole new level.
Time to explore it in some detail.
Understanding digital marketing 
Digital marketing professionals explain digital marketing being the process of marketing products or services to potential customers using the appropriate digital channels present on the internet. It has almost the same objectives as traditional marketing, but the difference is the medium the former uses to reach its customers and audiences.
Businesses, brands and organisations alike have been able to take advantage of various activities and branches of digital marketing, like search engine optimisation (SEO), Search engine marketing (SEM), social media marketing (SMM), email marketing, and content creation and more. Such is done to help promote them to the potential target audience and retain customers.
Digital marketing has a broader reach at the best of prices, and its scope is quite promising. So now let us have a good look at it.
The scope and future of digital marketing
Whenever professionals or non-specialists talk about the scope of digital marketing for businesses these days, it is heartwarming compared to previous years. This is because it has allowed them to start allocating their marketing resources toward the correct kind of people via the correct online channels.
This ensures proper use of resources which results in higher rates of conversion. This is another one of those reasons why digital marketing is a key part of most business entities today.
COVID-19 and digital marketing – its ascension into prominence
The COVID-19 pandemic helped accelerate the scope of digital marketing. What was once considered a niche and luxury segment is now a mainstream field. During the pandemic, the world went into lockdown to curtail the spread of the coronavirus. Consequently, people spent most of their time on the internet because they were confined to their homes.
This gave digital marketing the much-needed boost. A lot of people were able to purchase essentials online, and not only was this able to improve the digital side of the business but it also spurred growth in digital marketing careers. As a result, companies nowadays require digital marketing professionals, specialists and experts to run seamlessly.
The core benefits of digital marketing
Now it's time to have a look at some core benefits of digital marketing:
A worldwide reach
Digital marketing has removed geographical barriers. Numerous businesses, brands and companies alike have opened their doors to new and foreign markets, where they can offer their products and/or services to customers living at a distance. Not only can they be marketed to them in a click, but also awareness can be made to people who otherwise did not know about the company.
Targeting a niche
Targeting a niche means reaching out to people fitting a small set of criteria. This is done thanks to digital marketing. When people advertise on digital platforms, they can filter out the audience as per the qualities that match the target audience, and hence ads can be run.
Consider the location to target is Mexico, then the gender being women between 25 and 55, and then filter it down to working women with no children or at least one. This is how detailed targeting can go further and bring the best out of digital marketing.
It is affordable
Professionals consider this as one of the best benefits of digital marketing. The extensive reach it offers comes with comparatively affordable and competent costs. The Return on Investment (ROI) on digital marketing efforts is quite higher than traditional marketing. This helps small-scale businesses and startups to make the best use of it without stressing out their budgets.
Results which are trackable and measurable
Companies must always be able to measure their performance and make efforts to improve. This is the reason compiling a strong strategy and putting it to use is half the battle won. Tracking the performance, measuring any success or failure and taking steps to correct it is the best thing to do and the ultimate objective.
Platforms like Google Analytics and Google Search Console are good because they can help track the performance of your digital marketing campaigns from one end to another.
Improvements in conversion rates
Tracking performance helps companies assess where their most sales and revenue came from. Then they can target customers accordingly. It simply means increasing conversion rates as companies invest where they are in demand.
This can be difficult to do in traditional marketing, to find out where the lead came from and how they got converted. Digital marketing helps by targeting a similar audience with the most leads converted.
Alpha/Beta Testing
Two different ideas for the same campaign can be easy. Suppose a marketer runs a digital marketing campaign and they are not sure which one to test; A/B testing can help them run both of them without any problem. This helps them run both of the creatives to half the segments of their target audience to see which one was better among whom and why.
They can help finalise the creatives for their campaign based on outcomes instead of instinctual feelings.
The element of personalisation
Niche marketing helps marketers send out personalised messages to a similar audience, raising their chances of converting the audience into consumers. It is also the key to reaching a consumer's mind and helping them remember the company, brand or business. 
This is why email marketing is key here, as it helps them communicate with customers formally via customised messages.
Winning customer loyalty
Winning a customer's loyalty is the ultimate victory for a company. Loyal customers are among the best brand ambassadors companies can have. They can be retained when a company sends them personalised messages for both discounts, sales and coupon codes.
Companies can also remarket to them with special offers and promotions of a specific kind. This makes sure they do not go towards competitors.
More engagement
Everyone is aware of the way people are interactive and active on social media platforms. This gives businesses, brands and companies a good chance to post interactive content, engage with customers and respond to their queries.
Customers love brands who listen to them and respond accordingly. They prefer those that value their voice. Top-notch social media management and marketing can help them communicate with potential customers effectively and create a strong relationship leading to a robust reputation.
Digital marketing can help companies survive the competition
One of the key benefits of digital marketing is that it helps them survive today's cutthroat competition. The cyberspace is filled with numerous online businesses dependent on digital sales and digital mediums. Even the physical stores have created an online presence for themselves. This is why digital marketing is needed, as it is more than a benefit: it is a key element of survival.
You may also like: Using Google Analytics For Improving Your Search Engine Optimization (SEO) Tasks And Marketing
Image source: Dreamstime.com