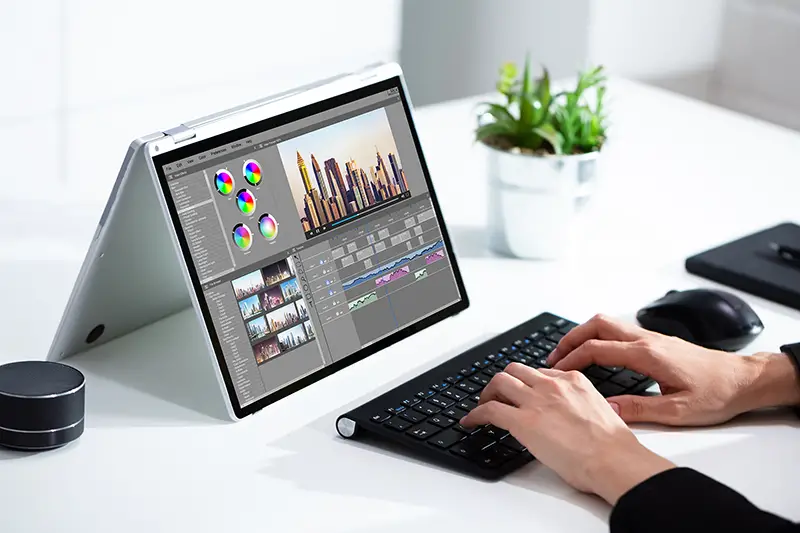 Video Editing Tools You Must Know
Video has become a part of our everyday lives today. YouTube alone has over 1 billion hours of video watched every single day. This equates to about 8.4 minutes per person per day.
The amateur and professional video producers alike are uploading reams of content every minute, ranging from thought-provoking post-apocalyptic articles about global affairs to informative tutorials on designing the perfect living room.
It takes a lot of time and practice to edit your footage and create your finished product, particularly for beginners. In addition, it is hard to get your head around all the video editing jargon and put it into action in a way that improves your product – and one that is both efficient and effective.
A video editor takes raw footage and transforms it into a more polished product. From trimming a couple of minutes off of your holiday video to creating a 20-minute show out of several hundred hours of reality TV footage, it's all possible.
To put it simply, it's like carving a sculpture out of a stone by taking away parts of it. The result is something more engaging and appealing.
Choose the right tools
You need to select the right editing tools for your work first to improve your video editing process. Although most offer everything you need to perform conventional video editing, some may be more convenient and easier to use than others for their usability, digital interface, and features. 
You need to pick what works for you and your editing style to get the best results rather than simply choosing the latest, most advanced program available.
What makes a good video editing tool?
1. Features are easily understandable
Users should be able to grasp the essential functions and tools of the application easily. While there are options for professional and beginner video editors, no one is interested in working with a program that is too challenging to learn. 
When it comes to video editing software, it should not hinder creativity or the workflow but rather support it.
 2. Clear division among basic and advanced features
Many video editing software packages come with extras, plug-ins, add-ons, etc., but a great video editing software has basic and advanced features. As a result, you will not experience any bottlenecks due to a limited operating system or be overwhelmed by numerous tools.
 3. Supports multiple file formats
It varies from application to application what file formats are supported for import/export. It may be a good idea to choose video editing software that supports a range of popular video formats and audio and image formats if you are used to working with many different video formats.
Common Video Editing Terms
You should be able to find a lot of tutorials and how-to guides on the website of a decent software provider, no matter which video editing tools you pick. 
These, however, may be hard to follow if you are unusual with video editing jargon. So, to simplify things, here are a few terms that could throw you off.
The timeline
Timelines, which represent your footage from the beginning to the end, are the heart of video editing. With its intuitive interface, you can clip, adjust, and rearrange your clips, add music, and make other adjustments intuitively.
Compression
You might need to handle huge files if you shoot video in HD, 4K, or 8K. So when you compress a video file, you reduce the amount of data, which makes it easier to move from one device to another or to the cloud.
Compositing
The idea of compositing is to combine elements of visual art from different sources into a single frame to create the illusion that everything belongs together. The use of green screens by actors is a common example, which is then paired with backgrounds and visual effects later.
Aspect ratio
Have you ever noticed that on some TV screens, you see black bars at the top and bottom of the picture? The reason for this is if the aspect ratio of a movie – the width and height of the picture – differs from the aspect ratio of the screen.
Since the content was originally intended for the cinema, audiences are willing to live with that compromise. When it comes to video, however, the audiences are less forgiving. 
Therefore, you must know what aspect ratio to edit your video before uploading it to social media. YouTube, for example, recommends an aspect ratio of 16:9, while Instagram recommends an aspect ratio of 4:5 or 9:16 for its Stories feature.
5 Video Editing Tools You Must Know
1. Adobe Premiere Pro
Adobe Premiere Pro is an excellent video editing platform for beginners, intermediates, and advanced users alike. The application supports 4K and 360 VR videos and has a variety of features. There is no need to worry about not finding the features you need to create stunning videos with this software.
Mac and Windows users can use this tool to edit videos in a timeline-based format. In addition, it has features like video masking, transitions, and special effects that can easily be combined with Photoshop and After Effects.
A crucial feature of Adobe Premiere Pro is the Lumetri Colour tool. Colour can be adjusted and manipulated to enhance a video's quality drastically. Using multiple cameras is possible thanks to the multicam feature. Adobe Premiere Pro also offers a wide range of titles. It is quite easy to use if you give it some time.
2. Final Cut Pro X
There are few video editing programs that offer as many features as Adobe Premiere Pro, but Final Cut Pro X comes pretty close. Editing and post-production videos on Mac OS X is a breeze using this application.
Video editing is a must on Mac OS X, and this software gets better and better as it adds features. A 360-degree video and HDR option are now available, as are quality 3D effects and multi-camera options. Despite its power and stability, this software has an easy-to-use interface, complemented by excellent editing tools.
Advanced features are present in abundance. Features such as Range-of-Effect options, Magnetic Timeline, and Intelligent Smart Conform Cropping ensure that no essentials are overlooked. This Mac-specific software is smart, fast, and built for maximum efficiency.
 3. Lightworks
Even though it was created more than a decade ago, Lightworks has steadily gained traction as a solid NLE software that can rival both Premiere Pro and Final Cut Pro. The timeline-based editor is easy to use and contains beginner and advanced effects, transitions, and controls for motion graphics. Windows, Mac, and Linux users are welcome to use it.
With Lightworks, you'll find an intuitive and simple user interface. Users are prompted to launch their first project after registering, with an austere interface, but one that is rather easy to use. With four tabs, it offers all the tools for editing video, managing audio/video files, adding effects, and editing audio files.
An aspiring movie maker can take advantage of this video editing tool's comprehensive features. The app is equipped with many key features, including multi-camera editing, background I/O, keyboard shortcuts to manipulate video, and real-time special effects.
 4. Pinnacle Studio
This video editing software is designed for professionals and features 4K and 360-degree VR capabilities. It is capable of rendering videos at lightning speed. In addition, it includes motion tracking and multi-camera support.
It is a very popular video editing tool used mainly by Windows users and is a compressed version of a fully functional video editing program developed by the same company. You can use it for editing videos through timelines, adding songs and music, creating titles and overlays, and more. Its features include timeline-based editing, drag-and-drop editing, free training, and DVD authoring.
With Pinnacle software, professionals can edit video masks, nest clips, apply LUT presets, and batch process videos, in addition to its fast rendering speed and vast effects library.
 5. iMovie
iMovie is good software that offers a good balance between simplicity and sophistication, comparable to Premiere Pro and Final Cut Pro. The Mac-based application comes preinstalled on most Apple devices and is free to use. Using its timeline editor, you can trim, transition, and make simple adjustments to color, filters, and audio.
Any Apple device – Mac, iPhone, or iPad – can be used to record and edit the video. You must use AirDrop on devices other than Macs. Green-screen functionality is one of Apple iMovie's greatest strengths.
The program's foremost feature is its multi-media aspect. For example, you can start editing on a device outside of your Mac, such as a mobile phone. Then, you can export the material to your Mac.
You may also like: Game-Changing Digital Marketing Tools You Must Consider Using